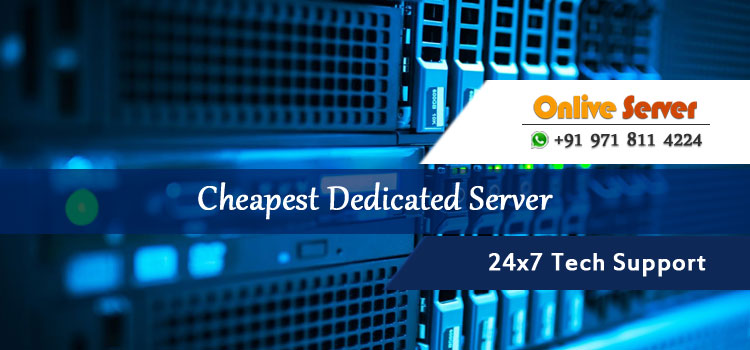 Get The Incredible Cheap Dedicated Server
In today's world, where processors and data run everything, businesses or brands may need to host their websites or online businesses or compute and process terabytes of data. The most familiar way to achieve this is to access servers rather than having one of your own. In most cases, a single server provides services to multiple users at a single point in time. This reduces the efficiency and the reliability of the server. What if someone needs more power and control over a server? This is where dedicated servers come in. Clients can rent servers from Cheap dedicated Server hosting providers and have exclusive rights over the server for the said period. This will result in having the complete resources of the server, be it may RAM, disk space, or CPU, without having some else clogging up the servers by taking in too much traffic. The client can run his processes on the server that the provider maintains, thus saving the cost of building one.
Pick the Cheap Dedicated Server Hosting Plan
Processor / Cores / Threads / RAM / Space
Location
Monthly
Action

France Dedicated Server – DSX1 – Intel Xeon-D 2123IT – 4c/8t/3.0GHz, 32GB RAM, 2x 2TB HDD SATA
Gravelines, France
$110

Germany Dedicated Server – DSX1 – Intel Core i7-2600 – 4c/8t/3.80GHz, 16GB RAM, 1 TB SATA
Kassel, Germany
$69

Hong Kong Dedicated Server – DSX1 – 2x Intel Core i3-4150 – 4c/8t/3.50 GHz, 8GB RAM, 1TB HDD
Hong Kong
$249

India Server – DSX1 – Intel Xeon E3 2136 - 6C/12T/4.50 GHz, 16 GB RAM, 480 GB SSD raid 1
Noida, India
$149

Malaysia Dedicated Server – DSX1 – Intel Xeon E3-1275 – 4c/8t/3.80GHz, 8GB RAM, 1TB SATA
Malaysia
$140

South Korea Server – DSX1 – Intel Xeon L5630 – 4c/8t/2.40GHz, 8GB RAM, 1TB SATA
Seoul, South Korea
$89

Thailand Dedicated Server – DSX1 – Intel Core i7-4790 – 4c/8t/4.00 GHz, 8GB RAM, 500GB HDD
Bangkok, Thailand
$149

Turkey Dedicated Server – DSX1 – Intel Xeon E3-1240– 4c/8t/3.7GHz, 8GB RAM, 2x 500GB SATA
Istanbul, Turkey
$89

USA Dedicated Server – DSX1 – AMD Quadcore – 4c/8t/3.0Ghz+, 16 GB RAM, 1TB SATA
Kansas City, USA
$79
The major disadvantage of shared hosting is that some other client may clog up the CPU, or RAM capacity of the server, thereby rendering every process on the server temporarily shut down. This is unacceptable in cases of many businesses where you provide 24*7 customer service. Cheap Dedicated Server hosting doesn't have this drawback as the resource of the entire server is used by only a single client. Security is also of most importance while using a server. It is not wise to use a shared hosting provider for websites and businesses handling sensitive information such as addresses, credit card information, etc. It may be vulnerable to spamming, hacking. etc. This is mainly a cause for concern for companies that handle sensitive transactions over FTP and SSL.
From a business point of view, sharing a host may cause you to rank down. This is because when you share a hosting provider, you also share the same IP address. If any of the sites using the server is a spam site or adult site, it may cause your website to be pushed down in searches. This is not worth it for a company's growth, especially for the e-commerce sector, where credit card details are handled online. Now, you know the advantages of dedicated servers. But one of the drawbacks of a dedicated server is, obviously, the cost. By using up all resources for a single client, the hosting providers are bound to increase renting the servers. It is imperative to run your business economically as well as securely. So, it is necessary to find dedicated hosts that can provide their services at a cheap rate.
In most developed countries, running a server has higher costs due to increased prices for infrastructure development, maintenance, higher daily wages, etc. Developing countries often offer cheaper services in that regard. Cheap dedicated server hosting must be scrutinized. This ensures that they don't offer more affordable services by sacrificing the quality of the service or limiting the access and customization power the client has. Onlive Server is a one-of-a-kind dedicated hosting service focused on quality of service and customer satisfaction. The key features include less latency and higher performance. This is attributed to the best equipment available in the industry and also the increased bandwidth offered.
managed your website performance with cheap dedicated server
What's more is the cheap pricing, which is very economical and depends on the customization you choose to bring to the service. Onliveserver also provides top-of-the-line security to the client's database and ensures maximum uptime. Safety is paramount for many businesses involving sensitive information. The server is regularly maintained offers more uptime. This is a very desirable quality while choosing a Uk Dedicated Server hosting service for your website. Cheap dedicated servers that suit your needs and 24*7 customer services can be hard to find. It is necessary to research first and read the review of the users before subscribing to a plan. It is our power and responsibility to choose carefully and wisely for the business we wish to run. Cheap dedicated servers can provide a definitive edge for your business model in performance and cost. It takes away the hassles of running and maintaining a server and can outsource the work to professionals.